We're All About Tarot And The Mystical Realm
Everyone Has Their Favorite Tarot Decks . . . Perhaps They Follow A Particular Theme . . . I've found that I've been attracted to Witch Themed Tarot Decks . . . But my tastes do seem to go for the eclectic, whimisical, traditional . . . My Tarot Deck Collection Works For Me — Just As Your Personal Tarot Deck Collection Is Unique To You And Your Preferences . . .
Here We Explore Different Tarot Card Decks That Are Mass Produced And Easily Accessible To Everyone At Reasonable Prices . . .
We also look at Learning To Read Tarot Cards . . . And Popular Spreads . . . We Do Not Do Readings . . . We Primarily Discuss Tarot . . . If You're Looking For Oracle Cards — You Won't Find Them Here . . . We're All About Tarot And Only Tarot.
Learning the Key Words for all the cards in the Minor Arcana as well as the Major Arcana will open up a richer and deeper understanding of what the Tarot cards are telling you . . . I use the Key Words suggested by Vincent Pitisci, who encourages us to use them or come up with our own Key Words — the important thing is relating to the meanings of the cards and, of course, remembering them . . . Vincent not only gives one keyword for each card, but 20 . . . so 20 times 78 cards is 1560 Key Words . . . Oh Good Grief! How in the world can I remember 1560 Key Words? The words are related and relatable — they do come together easily and nicely for a broader understanding. It is well worth considering. You will also notice that many Tarot Card Creaters have Key Words in their Guidebooks to help you along . . . Once you understand the card meanings using this Key Word approach, any Tarot Deck you pick up you'll be able to read quickly, easily and precisely.
Enjoy My Blog 
Visit Often — I'm Always Adding New Content. Be Sure To Tell Your Friends About MysticalKey.com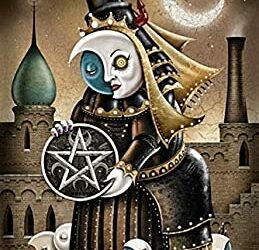 I've Gone Back And Forth With This Tarot Deck For Quite Some Time . . . Of course I read numerous reviews and have watched just about every video available about this deck. I've been intrigued by it and repulsed by it . . . For some reason I keep coming back to...
read more