I've always been fascinated with the occult.
I love ghost stories, tarot cards — and even my funky old Magic 8 Ball I got so very many years ago. I do have a crystal ball … not a large impressive one, but a small one with a stand. I also have crystals and some statues that create an atmosphere of I don't know what, but I did have a psychic decorator help me out to give my home a more comfortable feeling.
I do have a resident ghost … actually several. Some I had to invite to leave because of the mischief they were causing. I didn't appreciate the writing on the walls … some of the messages were rude and crude … and some were scary … But that is a discussion for another time.
I use a lot of sage to clense my house and items I bring into my home — I love antiques, especially those I've inherited from my grandparents … This kind of started me collecting different old items to decorate my home in an old attic motif. It's not all cluttered, dusty with cobwebs hanging … but the furniture may not necessarily go together which is fine with me.
I bought some of my furniture at a local antique mall … and I've also bought items from thrift stores of previously owned items.
Sorry … I didn't introduce myself … I'm Sharon with my adorable Yorkshire Terrier — she is 2-1/2 pounds of pure love!
I believe she had no idea what to expect when I brought her home with me. It's one thing to get used to a new mommy and another to have ghosts coming and going … moving furniture and just making a lot of noise walking around and slamming doors.
But she seems to have adjusted quite well … plus she has learned to keep them away from us … and at times the spirits are trapped and need me to intervene on their behalf by picking up my dog … Then she chases them until they vanish through a wall … It is fun times!!
Even though she is small, she is quite protective!!
I have another websites: TwoCansOnAString.com
I have real ghost stories over at TwoCansOnAString.com — I do love ghost stories and I've also added some paranormal investigations — Good grief! not mine — I'm not all that brave!!
I decided to add a new website with more of an occult feel and where I can feature products such as tarot cards … and add some videos of an informative nature regardig tarot and related occult themes.
I truly love the fall season and Halloween … it takes me back to my childhood when we'd go trick-or-treating. It wasn't so much about the candy collection, but the fact that I was running around the neighborhood at night — of course I had adult supervision.
It was wonderful with the moon and the stars … I wasn't all that excited about my costume … it was probably an old sheet or old clothes of some sort — nothing fancy or elaborate as the costumes today. I do come from a time before personal computers and cell phones … yes, I am that old!! Too bad I can't claim to be a time traveler … something for me to investigate.
Well … I do hope MysticalKey.com lives up to your expectations and mine as well …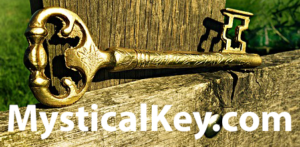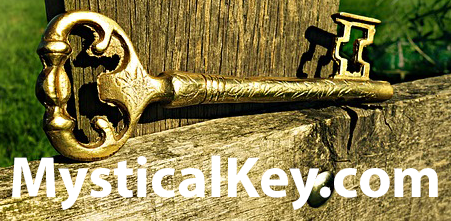 I'm just getting started … haven't actually built the whole website yet … Just have a bunch of ideas running through my mind and wondering how I'm going to create it … I'm working on the background stuff right now and hopefully will have something interesting …
It is live right now!! This is kind of the kick in the seat of the pants I need to get it up and running with positive, informative content. Plus getting all the stuff completed that is necessary behind the scenes.
I better get back to work!! But before I let you go, I wanted to discuss how I came up with the name for my website.
I wanted something different, but memorable … I was thinking of the names of occult shops and how I could come up with something just as mystical … That got me thinking … Mystical what? I thought of tarot, but that would limit the scope of the website … I wanted it short … and then I thought about the antique key I have on my keyring that fits in an old bookcase of my grandfather's.
I love that old key and receive a lot of comments when I set my keys down … This made me think that most people don't have old keys and find them to be interesting … or perhaps just strange … 
The word "key" goes well with mystical … And … as I was thinking of a logo, I debated between a "key" that unlocks something as opposed to a piano key or a laptop keyboard key …  Well, it's no mystery my decision …
Thanks for stopping by and reading About Me.
Sharon