This is a beautiful deck with dark shadowy feminine images bringing together moonlight and magic.
Tarot de la Nuit would be a lovely addition to everyone's Tarot Library. It is definitely in mine!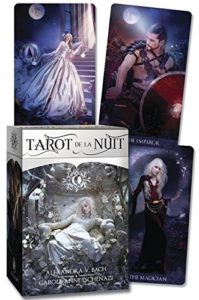 "Woven from the nighttime aether by Carole-Anne Eschenazi and the world renowned French illustrator Alexandra Bach, this incredibly beautiful deck embodies shadowy intrigue and feminine energy. Meaning "the night" in French, Tarot de la Nuit is a journey into powerful darkness under the moonlight of glamour and magic. Each Arcana is a work of art, empowering you to find the answers you seek."
I highly recommend this Tarot Deck.
It is worthwhile for you to watch the video below to see the full 78 cards in this delightful deck. I am very eager to work with this Tarot deck for personal readings and reading for others.
Imogen Walter's Unboxing and First Impressions:
I do enjoy Imogen's Walkthroughs of Tarot Decks
It was her walkthrough and first impressions that got me to purchase Everyday Witch Tarot and I am so very glad I did. So basically she's my go to person when it comes to showing different Tarot Decks. I know she doesn't have all of the ones I have or have reviewed, but quite a few. I haven't gotten into the Oracle Decks … maybe that will come next …
I've been watching this deck come up quite a bit in my research of Tarot cards, but wasn't quite ready to purchase it … but the time was right and I now have it in my collection.
It is difficult for me to pin point what makes a Tarot deck one that I want to purchase.
At times it is the name … mostly the images … I'm drawn to those Tarot Decks that work well with the Rider-Waite-Smith system. It just makes it easier for me to jump from one Tarot deck to another and still feel confident without referring back to the booklet for assistance with interpretation.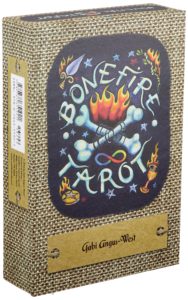 Initially I was going with my interests with ghosts and haunted houses … also witches — although I don't have all the witch Tarot decks. I then look at Bonefire Tarot and wonder what possessed me to purchase that!! It was the name and of course the images. It reminded me of The Cook's Tarot which I thoroughly enjoy as much as Everyday Witch. I do have my favorites, as I'm sure you do, too, but I try to use each of my decks on a regular basis. That's why I don't necessarily want to get hundreds of Tarot decks … but at the rate I'm going, that may be the case.
I do thank you for stopping by.
Sharon