I fell in love with this tarot deck as soon as I set eyes on it!
I don't identify as a witch … but maybe I am and I don't know it …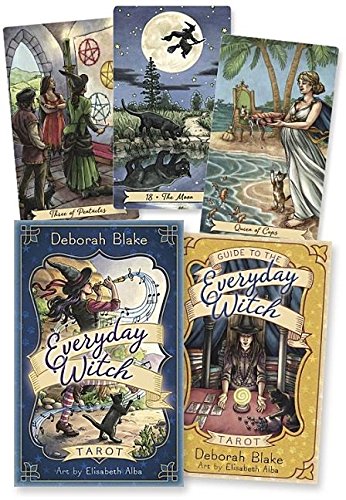 Deborah Blake created this card deck based on the Rider-Waite Tarot Deck with illustrations by Elisabeth Alba.
This is truly a fun deck for the modern witch … and I would imagine everyone else as well.
I absolutely love the fall/autum season with Halloween … costumes, candy, trick-or-treaters … and of course witches and bats and black cats … Maybe I'll dress up my little Yorkshire Terrier as a witch — maybe we'll have matching outfits 🙂
This is my "go to" deck when I'm doing my own personal readings. I believe everyone needs at least one tarot deck they use regularly for their own use …
I seriously like this deck. It is fun and gives me that feeling of fall … makes me want to get a small bag of candy corn!
Thanks for stopping by … Click the image above to get your own deck of the Everyday Witch Tarot.
Sharon
I have a bit of a post script thing going on here …
As I said earlier, I absolutely love the Everyday Witch Tarot Card Deck. Yet I didn't go into much detail except loving the concept and the artwork. It made me feel young again — like a child.
I've been looking for a Tarot Card Deck that felt like "home" to me … 
I found the video to the right I just had to share with you. It takes a variety of cards and shows an interesting relationship … something observable and subject to interpretatiion, but nevertheless valid and worthwhle for me to share here.
Reading cards may be no different from reading a book or watching a movie — our senses are stimulated, We may or may not know completely what is in the mind of the author, but we do add a bit of ourselves. This video demonstrates this quite nicely.
Lauri_Tarot's Everyday Witch Review
Obviously, I'm a bit obsessed with this tarot deck.
I'm eager to learn as much as possible about the Everyday Witch Tarot and how to use it appropriately for reading different spreads to discover different answers and for personal peace of mind,
Whenever you receive a new tarot cards it is important to take a look at them … see what stands out to you … and to your family and friends … The video did a lovely job of doing just that.
Sharon