My Goodness!! This Tarot Deck Seemed To Appear Out Of Nowhere!
I was completely caught off guard when this deck showed up in a presentation of a Tarot Card Collection. I haven't seen it before but the artwork reminds me of The Cook's Tarot, so I thought it worthwhile to take a closer look and see what this strange named Tarot Deck is all about … Bonefire … what?!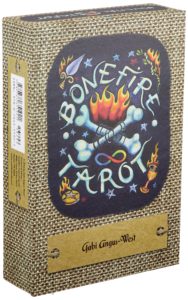 "Take an exciting trip through an extravaganza of 78 vivid and expertly hand-painted Tarot cards inspired by the vintage, old-school tattoo flash of Sailor Jerry Collins. Influenced by Rider-Waite, this deck and guidebook are styled for the serious life explorer, identifying important symbols and key thoughts visually, so you may intuitively read the cards and demystify your own journey." 
But what is a bone fire?
It seems to be a fire that is lit with bones rather than wood. This type of fire creates an acrid smoke which drives off parasites when livestock is driven between two such fires. Well … That is a bit of trivia I think may be difficult to bring up in conversation … but it may be a worthwhile challenge …
I do like the quirkiness of this Tarot Deck and will definitely add it to my growing collection.
Bonefire Tarot Video Review by Temperance Tarot:
What Do You Think?
I needed a closer look! I did purchase it, but it won't arrive until Friday. Just a couple of days before I can delve into it and begin learning about the symbolism and other whimisical details that make this Tarot deck so eye-catching.
I do like it!! I do recommend it!! I appreciate the eclectic feel of how my personal Tarot Collection is coming together 🙂
I'm Completely Mystified.
It's interesting how some Tarot Decks grab your attention immediately and others spark an interest, but fall back or are crowded out by other Tarot decks all trying to get your attention.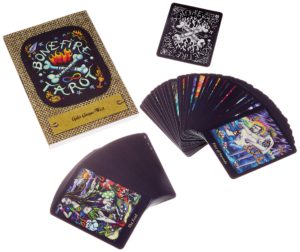 In my browsing on Amazon, I run across several Tarot decks that I see over and over again. Sometimes the names don't interest me or scare me away … and sometimes I think I'll put that on my list to review in future blog posts. 
I would be curious to know how long you wait before buying a particular Tarot deck. I've heard from many YouTubers that some decks are on their wish list … or one they intend to buy in the near future … Some receive them as gifts … so I guess they talk alot about some titles to their family and friends … 
As I've mentioned several times now … I do like Bonefire Tarot and can't wait to receive it and begin working with it. I think it will be a fun deck for personal readings. I'm interested to get into the symbolism and to learn more about the name … perhaps inspired by a tatoo drawing by Jerry Colins. This is a name that may not be easily forgotten …
I do thank you for stopping by! I do hope you'll click the image above to purchase your very own Bonefire Tarot deck with guidebook. Thought I'd add another link for your shopping pleasure 🙂
Thanks for stopping by!
Sharon