There Are Many Who Put Tarot In The Same Catagory As Ouija Boards.
I can almost hear you saying, "Oh Good Grief! They're not the same!" Or something similar 🙂
I just know that there are many who don't like anything they don't understand or have made up their minds about certain things and won't budge one inch on their beliefs. I'm not here to change anyone's mind. We're adults. We can decide for ourselves.
Let's Put This Myth To Rest, Shall We?
Let's see what Daily Tarot Girl has to say on the subject:
I Was A Bit Concerned When I First Decided To Get Serious About Tarot.
It is a matter of one's personal perspective as well as how we choose to use our Tarot cards.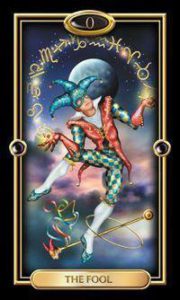 I know people who are truly into their daily horoscope and design their day around it. Some may call this foolish or superstition, but we all have our quirks 🙂
I'm reminded of a story I heard or maybe it was one of those Ouija Board movies where someone relied on consulting the Ouija Board for everything from lost keys to personal activities.
At first the Ouija was helpful … then things got strange … I can't remember all the details, but such a trap could be the result of taking Tarot too seriously or even the daily horoscope. 
If I get a reading I don't particularly care about I don't take it to heart, but decide what is this telling me to examine in my life ,,,  I prefer to take it with a "grain of salt" or to use it as a tool to gain personal insight.
Even when giving a reading to friends or clients, it is always good to let them know it isn't necessarily cast in stone. We can make choices, examine other possibilities, etc. But … sometimes when it comes to matters of the heart and we're told that a new love interest isn't the correct match … instead of getting mad about it, see for yourself if he/she is right for you … Don't get too invested in the emotional aspects …
Now, I'm not saying Ouija Boards are a tool, but some people view it as such. I know I've been warned about them and I prefer to stay clear of them … You decide what is best for you regarding Ouija as well as Tarot. 
I believe there was a movie about Tarot …
A young girl used her grandmother's Tarot cards … This was fine when she had permission to do so, but later when she used them after her grandmother died, things got a bit weird … That's what makes the movie interesting … It also makes me wonder if there is some truth to this.
People buy used Tarot decks all the time. Some prefer it to buying new ones. I'm just the opposite … exept when it comes to acquiring antiques … but that's another matter … Or is it?
I believe the paranormal is real and unexplained things happen all the time. But … that's just me …
I can't leave without sharing a Tarot Deck with you … This one has been coming up a lot in my research of Tarot cards … for some strange reason it kind of creeps me out … So … let's examine it more closely …
Santa Muerte Tarot Deck: Book of the Dead
Do you understand why I'm a bit creeped out?!!
Let's see if it is all a matter of perspective. You may think Tarot Decks I like such as Tarot of the Haunted House and Ghost Tarot are creepy. And this Tarot Deck should be right up my alley when it comes to the paranormal … But I'm not too sure …
Santa Muerte Tarot Walkthrough by InnerWhispers:
As I was going through various YouTube Videos, I became more alarmed about this Tarot Deck …
There were some having difficulty getting the Limited Edition of this deck … Then there were those more into Santa Muerte rather than the Tarot Deck that I found disturbing … yet interesting …
I was confirming my uneasiness as to this Tarot deck … I wanted to find a video with a more neutral point of view so you can decide whether this deck is right for you and the work you do with Tarot.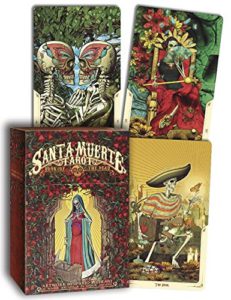 So … Tieing this Tarot Deck and the title of this post about Tarot being safe together …
Through my limited research … I was having computer difficulties … and I had a strange ringing in my ear … 
Now that things are back to normal … I had a thought that Tarot and this Tarot Deck in particular have to do with one's perspective and personal beliefs … I was feeling uncomfortable about this Tarot deck … I was thinking for those who were having difficulty getting it initially that perhaps the deck or Santa Muerte selected those best suited for it …
I don't believe it is a good match for me … but it may be perfect for you … I don't know … This also applies to Tarot in general. I don't believe there is anything evil about Tarot … or this deck … but then there's Chucky … What's so scary about a doll?
We do have preconceived notions about things. It is a given and we can't do anything about it. I honor my intuition and I do recommend others do the same … I get creepy vibes … You may get loving, healing vibes … I would much prefer yours to mine … But it is what it is and I'm staying away from this Tarot deck, but not Tarot in general …
I don't believe there is anything evil about Tarot or the Santa Muerte Tarot Deck — I was just joking about Chucky … We draw our own conclusions and what you believe is correct for you and what I believe is correct for me … It doesn't matter if we agree or not. It is all a prsonal and perhaps private thing …
Draw your own conclusions … Is Tarot Safe? … Is The Santa Muerte Tarot Deck Creepy?
Thanks for stopping by. I hope I've given you something to think about. Leave me a comment if you're so motivated to do so … Please be respectful …
Sharon