I've always been fascinated by "Steampunk" and when I discovered there was a Tarot Deck … Well, I just had to check it out … 
In my previous post on the Ultimate Guide to Tarot, we learned about Liz Dean and her volume of work in Tarot and healing, etc.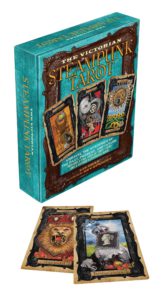 And, as I was searching for these great cards I came across the goggles — those famous goggles!! I wonder if they would help us gain more insight on the Tarot …
Can you belive Steampunk and Tarot coming together?
Well, they do both peer into the past as well as the future.
The Victorian Steampunk Tarot contains:
Liz Dean's insightful book
The full deck of 78 Tarot Cards beautifully illustrated by Bev Speight
It comes in a Steampunk-style embossed box with a lock mechanism.
Liz Dean's book clearly explains the meanings for all the cards in the deck as well as describing easy to follow layouts. She encourages her readers to connect with the illustrations to ignite imagination and intuition.
It is important to connect with the Tarot Deck. Perhaps that is why there are so very many on the market. And … maybe I've found mine … or one of mine. I still want to check out the Fairy Tale Tarot Deck … and as I learn about more …
Oh goodness … I'm going to have to clear space for Tarot Card Decks … Fortunately they are not extremely expensive … but when you buy 10, 15 or 20 … Hey, for me it's research 🙂
Be sure to check out those Victorian Steampunk Goggles as well as the Tarot set.
Thanks for stopping by!
Sharon