Unmasking the Mystery of the Tarot is a promise in this Ultimate Guide by Liz Dean.
Who is Liz Dean?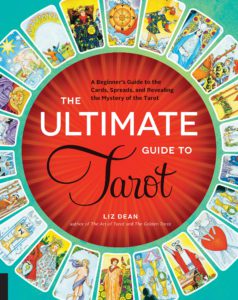 One of the world's leading experts on Tarot. 
We'll be seeing her name come up in a lot of my future posts. She has many other publications.
Here's an author bio I found on Amazon: "Liz Dean (London, England) is a professional tarot reader and Angelic Reiki™ Healer at Psychic Sisters in Selfridges, London. A best-selling tarot author, Liz had studied divination for over 20 years. Liz is the author of The Golden Tarot (over 300,000 sold worldwide), The Ultimate Guide to Tarot, The Ultimate Guide to Tarot Spreads, The Victorian Steampunk Tarot, Fairy Tale Fortune Cards, 44 Ways to Talk to Your Angels, The Tarot Companion, and Tarot Made Simple. Liz is also one of the "Tarot Masters" included in Kim Arnold's eponymous collection of 38 essays. She is also a former co-editor of the UK's leading spiritual magazine, Kindred Spirit (2011–2013), and an award-winning poet. "
In my previous post I shared a two part video tutorial in learning the 78 tarot cards from the Rider-Waite Deck. This Ultimate Guide takes you much further. And, depending upon what you want to do with your study of the Tarot … Liz Dean's books will find their way on your book shelf.
I don't know about you, but I'm intrigued by "The Victorian Steampunk Tarot" and the Fairy Tale Fortune Cards. 
I know many people who are interested in Angels … Maybe you are, too.
And, of course, there are the different spreads that will bring more meaning to your card reading and giving you more insight into your tarot card reading sessions,
The Ultimate Guide To Tarot is a "must have" in your personal library or to give as a gift to those you know are interested in Tarot.
As you continue on your journey, you'll find the perfect Tarot Deck for you … and he perfect spread …
Thanks for stopping by. Be sure to tell your friends about MysticalKey.com.
Sharon