Continuing With My Witch Obsession
Before we get started on The Green Witch Tarot Review, I just wanted to touch base with you a bit about my personal experiences in reading my own Tarot cards for personal information and guidance.
Of course I was using Everyday Witch Tarot … I had a question about one of my websites. I pretty much decided to let it go … yet I did have a nagging pang of perhaps revamping it rather than letting it go entirely …
Well … since I had pretty much made up my mind about that website I wasn't too pleased when I was told to basically keep it as it was now set up — no revamping … So, of course, I shuffled the cards again … I was totally blown away when the same cards came out in the same positions!!
There truly is something magical and mystical about the Tarot — I have no idea what it is, but these are no ordinary cards!!
The Green Witch Tarot illustrated by Kiri Leonard, with a comprehension guidebook written by Ann Moura.
The imagery is dynamic with a vibrance that blends symbolism, natural elements and wisdom to give you a powerful reading either for yourself or others.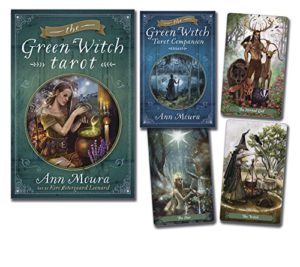 There is something truly energetic about this Tarot deck. It is one I want in my collection.
It is not just for witches, nor for the fall/autumn season, but right now in spring … The lush greenery does take your breath away. There is something special about The Green Witch Tarot Deck that is different from the other decks I have — maybe it has to do with nature, which I truly love. 
I love the change of seasons and how I have to get outside and embrace all that nature has to offer — even when it involves raking leave or the polin from my great oak tree.
I'm truly not sure if we choose our Tarot Card Decks or they choose us. It could be a combination of the two … or it is something we need to experience through these cards … perhaps someone we haven't met yet is in need of a message that only this Tarot Deck can convey …
The Green Witch Tarot Video by Jessica Starr TheStoryWitch:
I Love Walking Through Tarot Decks.
Some of you may find it boring. It is, however, a way of seeing what is inside the box which is excellent for those who buy on-line or in stores where the boxes are all wrapped up.
Sometimes the vivid coloring doesn't come out in the videos, but it is better than not seeing the images on the cards at all.
I'd like to know your feelings and observations about The Green Witch Tarot Deck in the comments below. I'd love to hear about any of your personal experiences while using the deck.
I always find it nice to have a few extra images to gaze upon.
I'm not one to tell you what Tarot deck to buy — of course I'd love for you to buy everything I review. But that's not the point. You decide what is best for you and for your Tarot pursuits — either personal or professional.
I believe mine are more personal, but one never knows … I had this friend who passed away quite some time ago who would lose a cat and instead of getting all sad about it would say, "Another one will come …" and one always did. So I guess whatever we're seeking in life or whatever is seeking us will find us … eventually …
Since I've started this website and seriously looking into Tarot, I'm finding I'm feeling much more relaxed … I'm not stressing out about things. I suppose most things don't matter — well, paying our bills is important — but there are other things that do seem to drag us down with worry and fret when it doesn't really have to. Things do have a way of working out … Sometimes we have to help things along … And, sometimes, it is best to just allow things to flow naturally …
I do want to thank you for stopping by!
Sharon