Deck Interviews May Be Interesting For Some And Quite Boring Or Useless For Others
Nevertheless I intend to interview my Everyday Witch Tarot Deck. I wonder if she is going to be quite helpful or a bit sassy … straight foreward or make me dig for answers … We shall soon find out.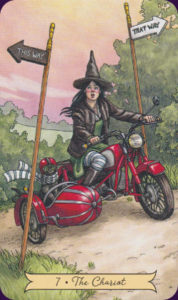 I plan to use the format of a previous post regarding deck interviews, perhaps with a bit of a change of questions. This is the Tarot Deck I plan to use while taking Daily Tarot Girl's Intuitive Tarot Course and wonder if thiis deck would like to be used for the course or would rather sit this out … I truly can't imagine this, but time will tell. Here are the interview questions:
What can you teach me?
Describe yourself.
Describe me.
How can we work together?
What are your strengths?
What are your weaknesses?
What is our potential working relationship?
Oh my goodness, I'm a bit nervous. I'm shuffling the cards while asking the first question … Everyday Witch Tarot, what can you teach me?
I selected the Three of Wands — Keep Focused … Hard work will pay off as long as you keep your eye on the prize. This is exactly what I need regarding taking the 4-week course. I must be focused and thus far it seems that Everyday Witch Tarot is an excellent choice for me.
Moving on to the second question — Describe yourself. the Three of Swords was picked … "Oh my achy breaky heart"  I'm wordering if this deck is playing with me or telling me that this deck is sensitive … heartbreak is often unavoidable, but you can at least learn from it … I'm receiving the impression that this deck doesn't dwell on the unpleasant, but learns from experiences and moves on …
So, let's move on to the third question — Describe me … This should be interesting … although a bit scary …Wow!! The High Prriestess … Seeking Knowledge from within and without … within myself and outside of myself … It is true I'm always seeking knowledge or wisdom via Tarot and other venues … I'm impressed.
Question 4, How can we work together? Four of Pentacles was selected. This card deals with financial concerns. But it can also relate to emotions. I'm not concerned about money matters generally, but I don't necessarily allow myself to express myself emotionally. Since this deck in an earlier question regarding its "achy breaky heart" I'm thinking this deck can help me express my feelings more than holding back. It is an interesting concept …
Question 5 is about the Everyday Witch Tarot's strengths … The Chariot was selected … It doesn't matter what direction you're going as long as you pick one and keep moving. I have a feeling that this deck is going to keep me moving forward in achieving my goals or even my destiny. I think this deck is not going to allow me to kick back and coast.
Question 6 asks about weaknesses … This should be interesting. Eight of Pentacles addresses Paying attention to detail … being proud of accomplishments … If you're going to do something it is best to do it right … In light of the other cards in this spread, I'm wondering if this Tarot's weakness is moving forward to attain goals, but doesn't stop long enough to celebrate achievements …
Now for our potential working relationship … especially regarding the course … but I would think generally with personal readings and readings for others. I can hear the drum roll … the Ace of Cups … My Cup Truly Runnth Over!! This will truly be a wonderful working relationship … Everyday Witch Tarot will push me, prod me and help me to achieve my goals ,,, with the course as well as with my regular inquiries and those of others.
A Walkthrough Of The Everyday Witch Tarot
It Is Always Great To See All Of The Cards In The Deck
I do love this deck. It is fun and also can be very serious.
It follows the Rider-Waite-Smith format which I believe makes it easier to learn.
I found this interview to be much more revealing than I initially thought. However I have been working a bit with this deck, so it did get to know me …
Too bad I wasn't paying more attention 🙂
I do love the playfulness of the Everyday Witch Tarot. I believe it will be an excellent match for me. Especially when taking a course. I do hope you'll look into Daily Tarot Girl's upcoming course. I truly believe when learning a new skill it is sometimes necessary to take a class or two.
Thank you for stopping by!
Sharon