I Believe Whenever You Have An Issue You'd Like To Have The Tarot Address, You Need To Be Specific … Otherwise I Don't Think The Tarot Will Give You The Information You're Seeking …
Please understand, I'm not saying The Tarot will give you the answer you want to receive … But it will give you the message you need to receive. At times it may not be pleasant, but it will address the specific issue as it understands it …
I was asking about a website I have that I didn't really know how to use … Over the past four years I revamped it. I loved the domain name, but I just couldn't get it to work for me. Adding new content is essential … and I just didn't embrase the niche it represented.  The Tarot seemed to know how torn I was … I loved the domain name. I was frustrated that I couldn't make it work for me. Yet the Tarot told me to carry on … I wanted permission to drop it … But that wasn't the case.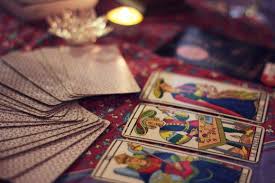 Well … I did shut down that particular website. I still have the domain name … I think I may allow it to expire if I don't come up with something that will work for me … For me a website is like a friend … and sometimes it is difficult to let go …
So be specific in your inquiries and remember that you may not receive the answer that you want … but an answer that you must hear … This is difficult when you're doing readings for yoursef … but especially when you're doing readings for others. 
I believe honesty is the best policy … but it can be painful … And I believe we avoid pain as much as possible …
In My Previous Post … Tarot Deck Interview … There Were Seven Questions …
Two of them seemed to be a bit redundant ,.. both regarded working together … 
I think it's important to understand your new Tarot Deck … learn its strengths and weakness … also see how it views you … Plus knowing what it can teach you …
In my reading … Bonefire Tarot was telling me to get out of my comfort zone … 
I pretty much knew that … but didn't want to address it. But I was nevertheless pleased it was a Tarot deck that would help me in this area. Perhaps a reminder that I need to test the waters a bit … Gentle nudges … 
And perhaps my other Tarot Decks will tell me the same. There is a reason why I chose them … or they chose me …
This is a concept that comes to mind quite often as I'm reviewing Tarot decks.
I'm strongly drawn to some … and there are those that don't interest me at all … Kind of a sad thing, but there are times when we're not a good match. 
I think about those who have hundreds of Tarot deck … They bought them for a reason … Perhaps they served a purpose … Just as children outgrow their toys … we do the same with our Tarot decks … but we hang on to them. They may be the right match for someone who requests a reading … 
I suppose it is all about energy. The energy in the Tarot deck as well as the energy within us. They either attract or repell … It's no different from people … We either feel positive or negative vibes … There is nothing right or wrong … It just is.
Your Tarot Deck Has To Feel Right.
This is basically no different from choosing clothing items ,,, a car, a house … or anything else you decide to purchase.
We know what we like and what we're attracted to and what we're not.
It is all a personal  preference with no right or wrong.
Karolina Kvas Has Some Tarot Card Selection Tips:
Select a Tarot deck that appeals to you.
It does seem to have a lot to do with the images … and perhaps some of the symbolism …
When you've gone through your deck and looked through the guidebook … You're going to feel whether this deck is right for you or not. This may be a good time to do an interview. Write out your own questions or find a deck interview format that works for you.
You may have other questions as you go along … just be very clear as to what you're asking … 
Thanks for stopping by! I hope this was helpful and informative.
Sharon