A Newly Released Tarot Deck With A Modern Twist
As you'll see in the walkthrough video, it follows the Rider-Waite-Smith tradition which makes it great for all levels of Tarot Readers …
It lends itself well to the intuitive reading style. The images do draw you in to explore further … giving your readings deeper meaning.
The Modern Witch Unboxing And Walkthrough
I'm Not Entirely Clear As To Why This Is Named The Modern Witch Tarot …
It follows the Rider-Waite-Smith tradition … The clothing is more modern … I don't recall seeing any witch's hats … but maybe some of the images in the background could give a witchy touch …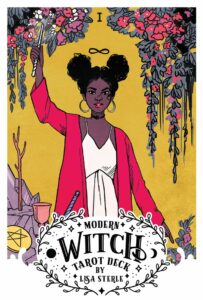 This seems to be a very relatable Tarot deck. I love the box … I like to display my Tarot decks on a shelf each wanting my attentiohn to bring them out to tell me what I need to know in order to move forward on my journey.
This is a lovely deck to add to your collection or give as a gift to your Tarot friends.
Thanks for stopping by!
Sharon