Most of the Tarot Decks I select to purchase mean something to me … and I'm sure have a special meaning to all Tarot Collectors, Readers and Enthusiasts.
I review a lot of Tarot Decks. Some of them I like and will purchase. Some I like, but know I won't use. Some I think are great, but not for me. I believe all Tarot Card Decks have been designed for particular individuals … but perhaps not for everyone. The same is with most products — not everyone is going to like them enough to purchase.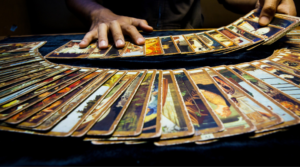 As I've mentioned in other posts, you need to select the Tarot Deck that is right for you. Maybe you can't explain why a particular deck "speaks to you", but you know what you like. The important thing is to use what you buy. That's the whole purpose — in my opinion.
I've surprised myself lately with some Tarot Cards I've purchased. It may not be such a good idea for me to review so many, but I do need to have some self control … Every Tarot Deck is different and we're truly lucky to have such a wide selection with more being created each and every year. Our collections will grow as we grow and evolve with our understanding of Tarot.
Tarot In Wonderland Video Presentation by Jennifer Ball:
This Is Truly A Fun Tarot Deck That Will Delight You, Your Friends, Your Family and Everyone Who Sees It And Is Fortunate Enough To Receive A Reading 🙂
I do love the White Rabbit and the Mad Hatter … also the Cheshire Cat … of course Alice and so many others …
Tarot In Wonderland is a beautiful Tarot Deck that is just interesting to look at. It is definitely great for intuitive Tarot Card Readers with so very much in each card. And the Guidebook is extraordinary!!
I Absolutely Love The Tarot Decks With Guidebooks … The little booklets are fine and serve a valuable purpose, but I like having larger print and a book with pictures — full color is best, but black and white is fine with me.
As was mentioned, the cardstock could be thicker, but it is what it is. I know we want our Tarot Decks to last forever without looking worn and tattered … But the more we work with them, the more loved they will look.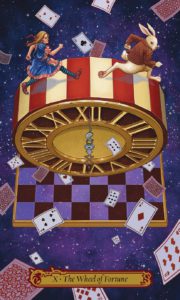 I think Tarot In Wonderland is a lovely deck that is relatable to most people. Some may love the books by Lewis Carroll or not … some may be unfamiliar with it. But I think this deck speaks to the heart and that child within each and everyone of us. 
I do recommend Tarot In Wonderland. You may prefer other types of Tarot Cards and may be turned off by the cardstock quality of these cards. That's fine, there are plenty of Tarot Decks from which to choose.
I do thank you for stopping by and shopping with me by using my links. You can click the image to the right for more information and for ordering. The same applies to the links at the bottom of this post.
Be sure to tell your friends and family about MysticalKey.com
Sharon