A Breath Of Fresh Air . . .
Pastoral Tarot beckons you to immerse yourself in the enchanting landscapes of the countryside, where nature's wonders unfold and reveal the essence of our being. Step into the bucolic scenes of apple orchards, lavender farms, and golden pastures, as you embark on a reflective journey through the timeless tradition of Tarot. With exquisite attention to historical detail, this deck captures the nostalgic beauty of rural life, while remaining faithful to the trusted structure of the Smith-Waite Tarot.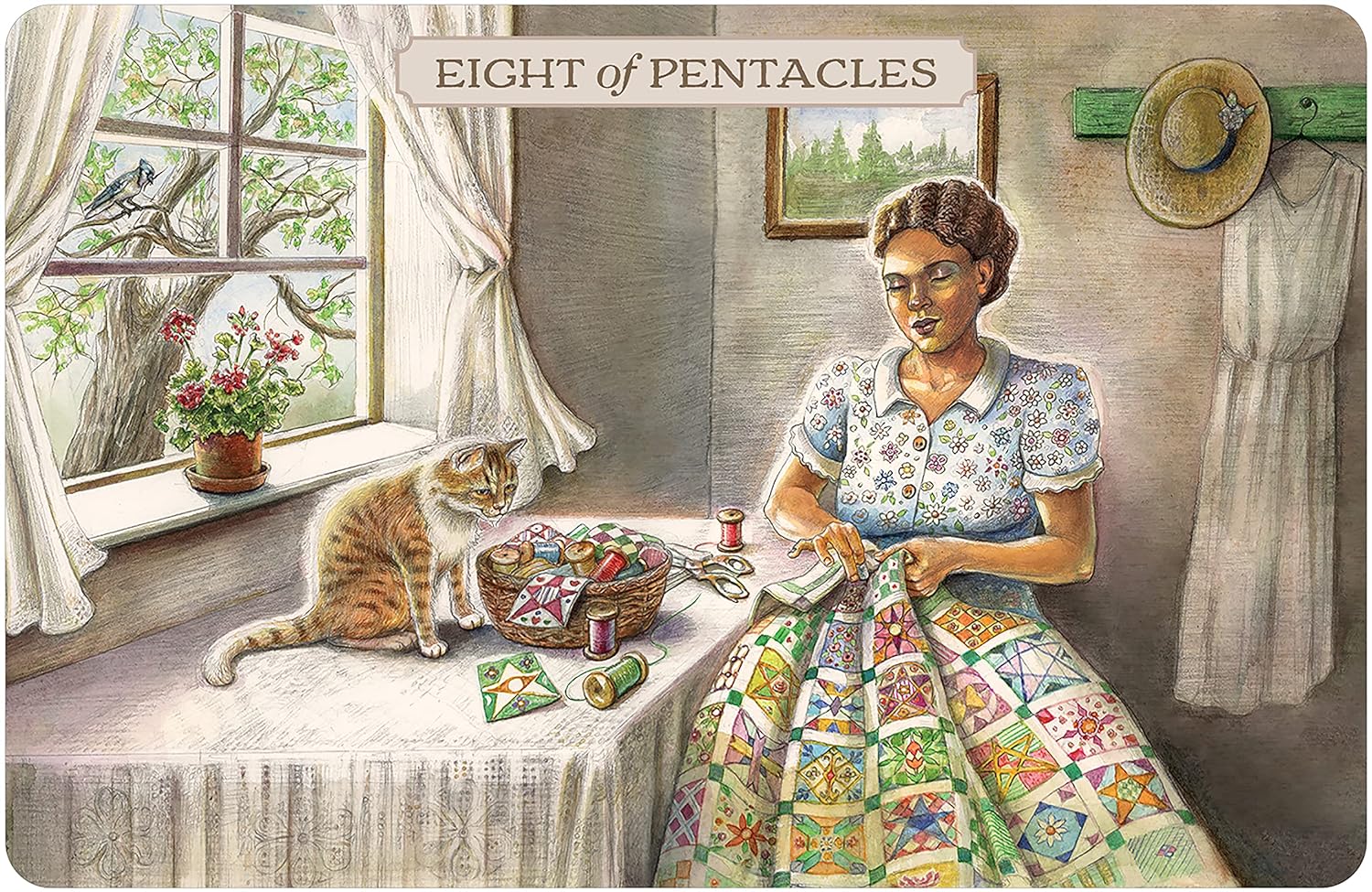 Whether you're a seasoned reader or just starting your Tarot exploration, Pastoral Tarot invites you to find solace and meaning in its vivid horizontal artwork, transporting you to the very heart of nature's embrace. Delve into the 78-card deck, accompanied by a linen pouch and an illustrated 180-page guidebook, and discover a profound connection to both yourself and the idyllic landscapes that have long whispered the secrets of the divine.
Step back in time and immerse yourself in the nostalgic charm of 20th-century North American life with each landscape piece by Lisa Hunt. These artful depictions of Americana capture the essence of a bygone era, transporting you to a simpler time. To fully appreciate the beauty and significance of these artworks, accompany them is the guidebook by Lynn Araujo. This perfect complement to the deck will provide you with deeper insights, historical context, and a richer understanding of the captivating scenes painted by Lisa Hunt. Rediscover the magic of America's past through the eyes of these talented artists.
Experience Pastoral Tarot
Step into a world of peaceful nostalgia with the Pastoral Tarot. Inspired by the serene countryside and infused with the spirit of the 30s and 40s, this 78-card set offers a realistic take on the traditional Rider-Waite-Smith deck. Immerse yourself in the beauty of nature and its cycles, as the language of flowers reveals creative symbolism and expressive content. Let the Pastoral Tarot guide you on a journey of self-discovery and enlightenment.
This Tarot Deck completely took me by surprise. I do love the artwork and the fact that it is printed in a landscape position rather than as traditional Tarot Card Decks. This allows for more detail which is a plus for intuitive readings. It has a great homespun, heartwarming feel I find quite inviting. Overall this is a lovely deck I'd be proud to have in my collection. I could also see myself using it regularly. It makes me feel like Thanksgiving — that feeling you get anticipating the holidays and getting together with family — and the nostalgia of it all.
Thanks for stopping by! I hope you enjoyed this sharing of the Pastoral Tarot.
Sharon