The Mythical Goddess Tarot Deck is more of a non-traditional deck which may appeal to those who want to get away from the Rider-Waite model.
For many it is the artwork that draws them in. This deck has excellent artwork that you may enjoy and will inspire and motivate you to study these cards and do readings for your friends, family and yourself.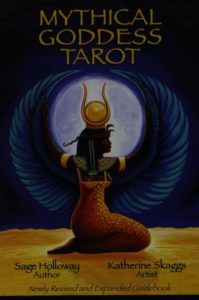 The 78-card Tarot Deck is beautifully illustrated by Katherine Skaggs.
The author of the 128-page guidebook is Sage Holloway.
Many believe the Tarot holds secrets and this deck is no exception with it's universal myths and legends with a deeply feminine nature that brings hope and inspiration as it guides us toward a fulfilling life of peace and love.
This is a lovely Tarot deck that will be a welcome addition to your Tarot Deck Collection.
Mythical Goddess Tarot Video:
Mythical Goddess Tarot Is A Treasure In A Box.
This is an easy-to-use deck that is believed to bring joy, fulfillment and transformation to beginners as well as experienced Tarot readers.
This deck allows you to access the wisdom of the ages to your Tarot readings. 
This is truly a worthwhile find.
It has been out since March of 2009.
It is also interesting to note how strongly aligned these cards are to those who read by feelings and inspiration brought forth by their guides. It is truly wonderful to receive such a mystical connection.
Thanks for stopping by!
I do hope you'll look into the Mythical Goddess Tarot Deck And Guidebook Set to see if it would be the right Tarot deck for you.
Sharon