Maybe I'm Coming Out Of The Broom Closet
Or Not Just Yet ...
About Ten Years Ago I Met A Psychic Who Introduced Me To Several Spirits — Some Of Whom Wanted To Be My Spirit Guides.
I'm not well versed in Spirit Guides, but I thought they were assigned to us and remained with us forever … But I could have that wrong.
I do kind of like the idea that we get new ones from time to time depending upon what we're going through. But, seriously, I never imagined I'd have a witch want to be my Spirit Guide … For whatever reason would that be?
I thought of doing some more writing — I wrote three children's books, so why not write about a witch — her life and perhaps even her afterlife …I don't believe she was a Salem Witch … but more of a Gypsy variety … But I could have that all wrong …
I never really gave it much thought, except for now when I'm going through this "witch phase" with the Tarot cards …
Just maybe she will be able to communicate with me through them … Or she has been communicating with me all along getting me to this point in my life where I may be embrasing something from a past life … or it is meant for me here and now …
I have been having some strange dreams that seem to be guiding me in a direction I'm not at all sure where they are taking me. Initially, they seemed quite futuristic … and yet there were a lot of things that may have been more of a magic thing …
Well, I did find my dreams entertaining … but lately they have been into potions and spells that I don't understand nor know how that relates to me and my life. Perhaps time will tell.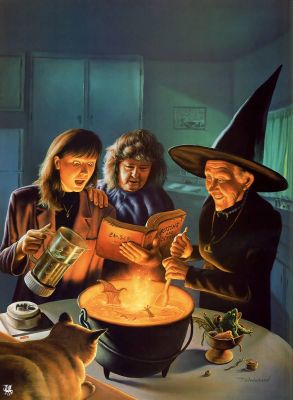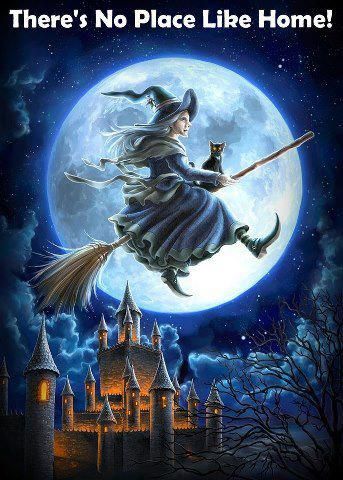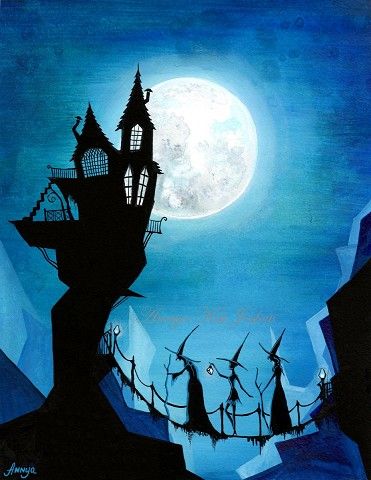 Oh Dear … What Will The Neighbor's Think!!
Actually, does it really matter!!
When I first started MysticalKey.com I came across the video to the right … it did give me pause. Then I thought I would imagine many of you would like some of the same things. I didn't like them all … but quite a few …
Signs You May Possibly Perhaps Be A Witch:
I Do Find This All Quite Interesting …
If this is my path, it has come around rather late in my life … But better late than never, I suppose 🙂
I love the night … and ghost stories. I think the spirit world is quite interesting and fascinating. I sometimes believe people fret about things that are truly not important and wave away things that would be much more meaningful to entertain … 
I never really went through a goth phase … but I can relate to it a bit more today … Oh goodness!! I may be a budding witch in the making … Or I've been one all along and didn't know it.
I doubt this is going to have a great impact on my life … I don't plan to make any major changes … but then again who knows what awaits me down the road. I'm definitely not trading my precious Yorkshire Terrier in on a cat — I think cats are great, but I'm more of a dog person … I would rather fancy us riding on a broom in the wee hours of the morning …
Thanks for stopping by!
Sharon
I'm Finding The Need For A Post Script Here.
As I was going about my day, I was drawn to YouTube and was fascinated by how many Tarot readers use numerous decks to conduct a reading … And not only that, they set up different groups of cards — one you choose for your personal message … Or you can choose more than one. It is entirely up to you …
It's basically a message you need to hear right about now.
What Do Your Spirit Guides Have To Say To You?
That is truly an interesting question. It is something you can ask the Tarot for yourself for a personal reading. I did think of doing so earlier, but didn't move forward. But now I believe it is an excellent thing to do from time to time.
And, it's always fun to receive a reading from others.
I Find This Pick A Card Concept Quite Delightful.
Did You Pick A Card?
Or did you listen to all three readings? Or did you pick a card and also listened to all of the readings to have a bit of a pick and choose reading? I suppose it doesn't matter.
I chose one set of cards … and listened to all of them. I'm into listening to Tarot readings … Plus I was interested in all the different Tarot decks that were used and the number of cards that made up the reading.
I'm always amazed by the number of people on YouTube that do Tarot readings and truly allow their intuition to kick in.
I do hope you found this refreshing and interesting.
Thanks!!
Sharon