Forest of Enchantment Tarot Release Date — October 8, 2019
This is a Llewellyn Publication by Lunaea Weatherstone and Meraytah Allwood.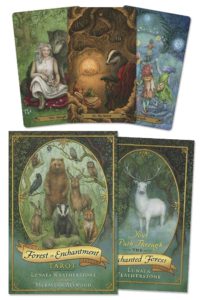 I was thinking about summer camping in the forest … getting out in nature … telling ghost stories around a camp fire … hiking … I was browsing along in Amazon and Wow! Forest of Enchantment Tarot appeared … but it's not yet released. As did the Wizards Tarot in my previous post. I'm just not used to running into Tarot decks that have not yet been released. I do find this quite exciting!
According to Llewellyn Publication:
"Once you step into the enchanted wood, your life―and your spirit―will never be the same. The forest is alive with magic: wise ancient trees, glowing blossoms, crystal caves, and forbidding thickets of thorns. Here you will meet witches and wizards, faeries and elves, birds and beasts both earthly and otherworldly, ghosts and shape-shifters, dancing princesses and sad old knights. As you wend your way along the twisting woodland paths, finding adventure at every turn, the old tales come to life. In the Forest of Enchantment, you may seek your fortune, quest for success, and live happily ever after."
This is truly a fairy tale theme which captures the imagination … and brings out the child within … This seems like a fun Tarot deck which will be a lovely addition to your Tard Card Collection. You can preorder now by clicking the link above or the image to the right. 
Thank you so very much for visiting.
Sharon
;