I Just Started My First Week With Daily Tarot Girl's Intuitive Reading Course
It's a lot of fun … I won't be going into much detail about the course … It is something you have to experience for yourself. I took it for direction and focus where it relates to studying Tarot. You may have other goals and get something completely different from it. It's similar to seeing a movie … we may focus upon different things and get a different message than others …
I'm about the journey … sometimes it is much more important than the end result …
Tarot Is Definitely A Personal Journey
It can begin anywhere … 
I believe the absolute first step is to buy a Tarot Deck … of course I'm going to say this because I have links I want you to click … But seriously, you can begin with watching YouTube Videos and the first suggestion is to select a deck of Tarot cards … Or … you will decide for yourself that you need to purchase one … That is much more important …
It is all about taking baby steps … I know I danced around from one video to another … I was in such a hurry … Wanting to learn "short cuts" … I didn't want to have to keep checking the guide book … but that's why it's included with most Tarot decks …
There may be some decks that give you no direction at all … That's when it's important to have a basic knowledge about the suits and maybe some keywords regarding the cards. We do want something that rings true from Tarot deck to Tarot deck as well as from one reading to another … It's very much like playing a game and needing to follow the rules …
Then you can alter the rules a bit or add variations to the game … or to your Tarot readings. I believe in consistency … And to a degree … order 🙂
Wheel Of The Year Tarot
This is a Lo Scarabeo Deck with 78 cards following the Rider-Waite-Smith format.
The artwork is lovely and colorful with some images with bare breasts — this may be disturbing to some viewers and wtanted to give a warning. I'm not offended by it and sometimes I don't notice it … so, thankfully it was brought to my attention …
The deck comes with a little white booklet with keywords to assist you when interpreting a reading …
Wheel of the Year Review and Walk-through
This Tarot Deck Seems To Be A Good Choice For Autumn Readings
At this time of year, we do begin thinking of the upcoming holidays … Plus it is nice to see the seasons we've gone through … We may have some fond memories of spring and summer …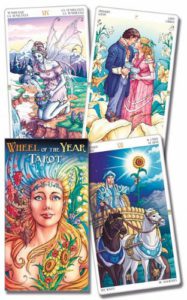 I'm drawn to this Wheel of the Year Tarot Deck because of the theme as well as the colorful artwork …
I do hope you're enjoying your Tarot Journey and will take a look at this Tarot deck … Just click the image to the left …
Thanks for stopping by!
Sharon