I thought I was on a roll there for awhile … 
Then I got a bit creeped out.
I was researching Fairy Tale Tarot Cards and I hit upon Dark Fairy Tale Tarot Cards … not something I personally want to explore. So, perhaps I should go for specific fairy tales. To be honest with you, Grimm's Fairy Tales were not as bright and cheerful as one would expect. Disney did a wonderful job of giving children delightful fairy tales … but they did have their dark side.
So, I decided to check out specific fairy tales … Wonderland Tarot In A Tin …
I must admit I've never been a great fan of Alice in Wonderland or Through the Looking Glass. The concept intrigued me … but following a rabbit down a rabbit hole?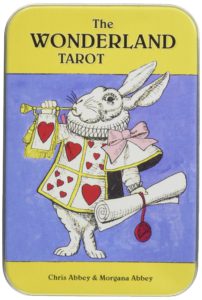 However, the characters were cute … and what child doesn't like a tea party?
And then there's relating to your Tarot Cards for imagination, intuition and perhaps a bit of inspiration … Bringing out our inner child is a good thing … yet many images of fairy tale tarot cards gave me an uneasy feeling.
To be honest with you, I'm not entirely sure how I feel about the Wonderland Tarot.
I may still have goosebumps from my earlier encounter.
But, it may still be worthwhile for me to give it a review.
This tarot deck comes to us by Chris Abbey & Morgana Abbey.
They ihvite us to join the mad tea party with the imaginative characters of Lewis Carroll.
Morgana Abbey's artwork pays homage to the hand-drawn Victorian-style of Sir John Tenniel — the illustrator of the first edition of Alice's Adventures in Wonderland.
Insofar as the amusing tarot deck, the Minor Arcana suits are famingos for Swords, peppermills for Staves, hats for Cups and oysters for Coins.
This pocket-sized deck comes in a tin with a 56-page booklet. 
Oh yes, I forgot to mention that there are also markings of a traditional card deck so one can play card games as well as use them as tarot cards.
I haven't warmed up to these Wonderland Tarot Cards.
Many of you may think they're quite charming and would make a great addition to your tarot card collection. I can truly see that … and with the tin, it is a great deal to have to put in Easter Baskets or save as stocking stuffers for those into Tarot Cards.U
It truly is all a matter of personal preference — can you relate to them … It is truly about you and how you feel about this deck or any deck you decide to purchase.
My purpose here with this blog is to share with you different books and tarot card decks that may be of interest to you. As well as other products ,,, I've been intrigued by Spirit Boards, but they have been given a bad reputation with all the creepy Ouija Board horrors. Yet I know of many who collect them … and use them …It's not for me to tell you what is best for you … I can only share from my personal experiences and preferences.
I do thank you for stopping by and getting another glimpse into the mystical key.
Sharon