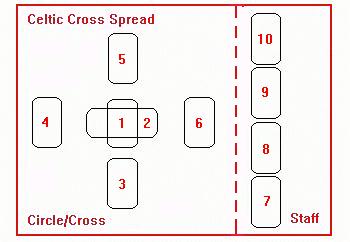 The Celtic Cross Spread Consists Of Ten Card Positions Representing Different Questions
Although this Tarot spread may seem overwhelming to many beginner Tarot Readers, it is essential to learn it, study it, use it and make it a part of your regular routine. Pulling a Tarot Card to receive the "vibe" for the day is as foolish as reading a daily horoscope and base your day upon it. Get smart when learning Tarot and make it part of who you are . . . The Tarot is a tool . . . use it wisely. And, of course, keep track of your readings. It may prove very valuable to you in your future readings.
Vincent Pitisci Is The Author Of Tarot Maps: A Log Book For Your Celtic Cross Tarot Readings
I thought it best to consult Vincent Pitisci in regards to the Celtic Cross. Hopefully, this video will give you the necessary information you're seeking in regards to your personal journey with Tarot.
Clarity Is Essential!
I truly liked the way Vincent put the different card positions in perspective with the questions: what, how, why and when. For me, this is clarity and extremely helpful in remembering what I'm looking to achieve in my reading. Way back when I was first introduced to Tarot cards and spreads, it didn't really make sense to me. I didn't have a skilled Tarot Reader who put the cards in perspective . . . Answers don't come easily for many questions . . . We have to dig . . . And maybe have several readings over time . . . It is possible when asking another question that an answer to a pressing one will be revealed . . . Thus the necessity to keep track of your Celtic Cross Readings . . . They may prove invaluable to you down the road.
I Came Across A Second Part To The Celtic Cross Reading Process By Vincent Pitisci. I Thought It Worthwhile To Share It Here With You.
Are You Ready For Part 3?
Clarity Is Essential As Well As Becoming Comfortable With The Celtic Cross In Particular But Any Tarot Spread Of Your Choice That Is Your "Go To" Spread For Clients And For Your Personal Readings
Vincent Pitisci has a Part 4, Part 5 and Part 6 to his Celtic Cross Spread. I decided not to include them here. You can look them up on YouTube as well as others that you will find useful and helpful.
Actually, the purpose of this post was Vincent's book Tarot Maps and the importance in keeping a record of your readings. I have found certain cards coming up a lot in my readings. Something I will be looking into for more clarity and new insights into my particular questions. As I've mentioned before: Tarot is a tool . . . We use it carefully and respectfully and it will open up new insights and perspectives for us to explore.
Thanks for stopping by! Please leave me a comment. I enjoy hearing from you.
Sharon